Quarantine in Japan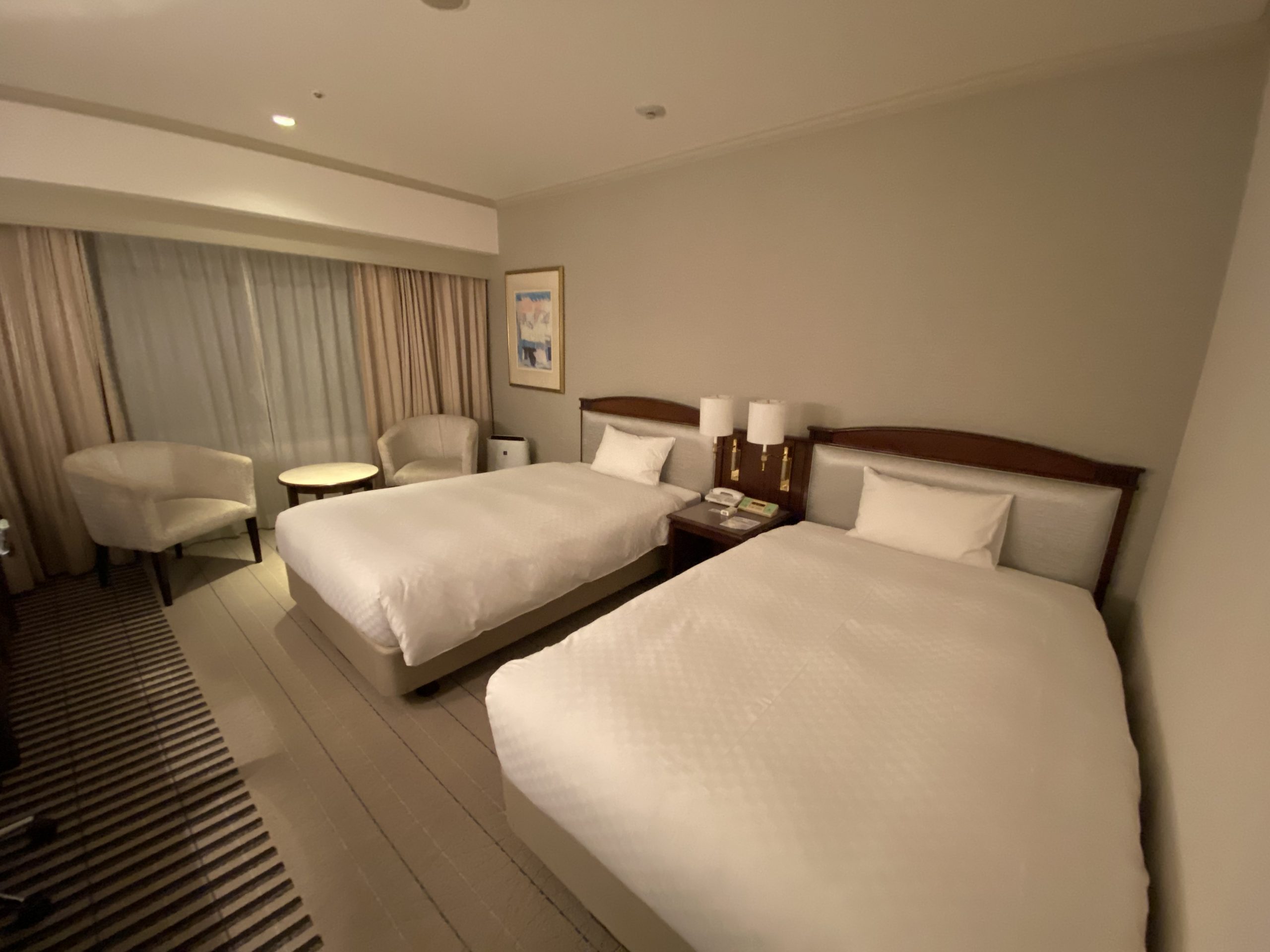 I'm writing this article on March 2022. Please be aware that these things change suddenly depending on the situation. Ask the airport or quarantine website if you have questions regarding traveling to Japan or quarantine. The food and hotel fee while you are staying at quarantine hotel are free include bath amenities too.
URL: https://www.mhlw.go.jp/stf/seisakunitsuite/bunya/0000164708_00079.html
First, I showed my negative certificate, specific document, boarding pass and passport when I arrived at Japan. And then I answered the questions online after took a COVID-TEST. After that I was explained how to use "My SOS", it's an app for the quarantine officer to check my health and location every day. After that I waited my result. I was a negative so I moved to quarantine hotel by bus. However, If I were positive, I may move to hotel for patient.
You must stay at hotel for three days if you come to Japan from Russia, Turkey, Saudi Arabia, Sri Lanka, Mongolia, Korea, Indonesia, Singapore, Egypt, Nepal, Pakistan and Vietnam even if you got a booster shot or not. If you come from any countries except the ones listed, you don't need to stay at home or hotel for three days. However, you must stay at home or hotel which you book yourself if you didn't get a booster shot. It's better to ger a booster shot if you come to Japan. You must get a specific COVID-19 vaccine from Pizer, AstraZeneca, Moderna and Janssen.
You will have similar experiences as me when you arrive at the quarantine hotel. I stayed at Nikko hotel Kansai airport. You will get a paper that explains the rules and thermometer when you arrive at hotel.
Your body temperature will be measured every morning and evening. The officer asked me if I had any food allergies or not. There's a choice of vegan, vegetarian, only beef, only fish, etc. Although, you will have food similar to mine if you say nothing.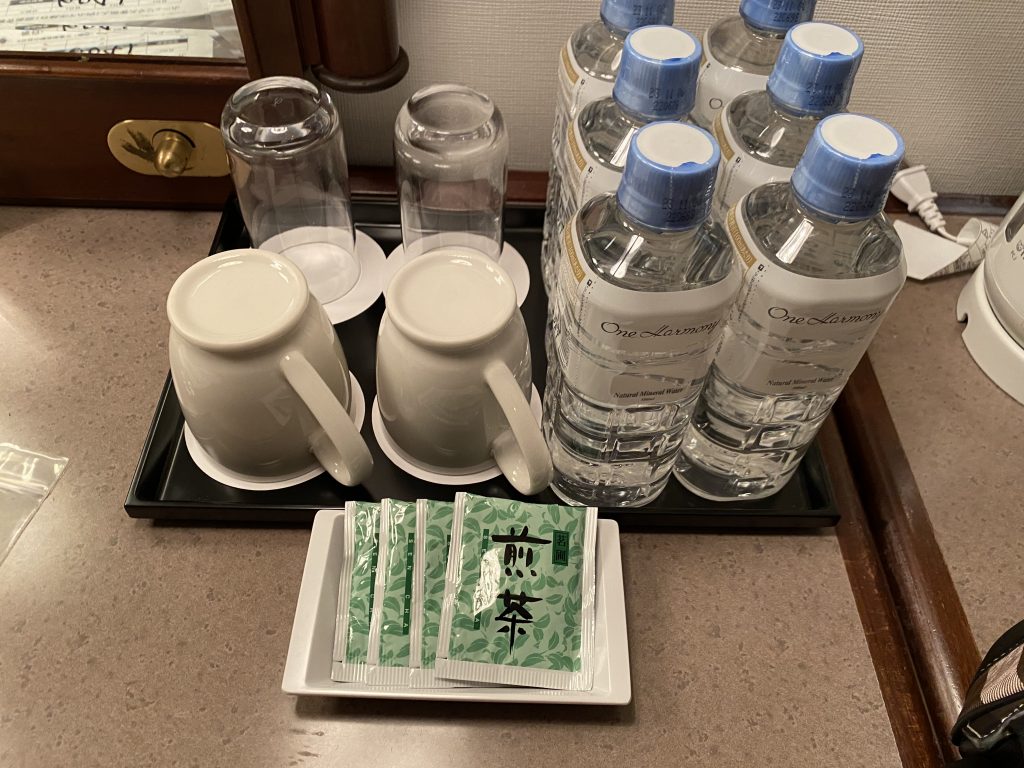 The Quarantine officer say nothing when you go inside your room, so you should call the front desk if you need something. There are water bottles, tea packs, a kettle, fridge, humidifier, TV and Wi-Fi in the room. You can watch TV, but this tv is only Japanese. Bathroom amenities include razors, two tooth blush, comb, face towel, bath towel, face wash, body soap, shampoo and a hairdryer. However, some hotels may not have humidifier anymore. Microwaves and laundry appliances are not available. If you would like hot food, call the front desk. For laundry, wash or bring your clothes to your home or your next hotel.
First day for breakfast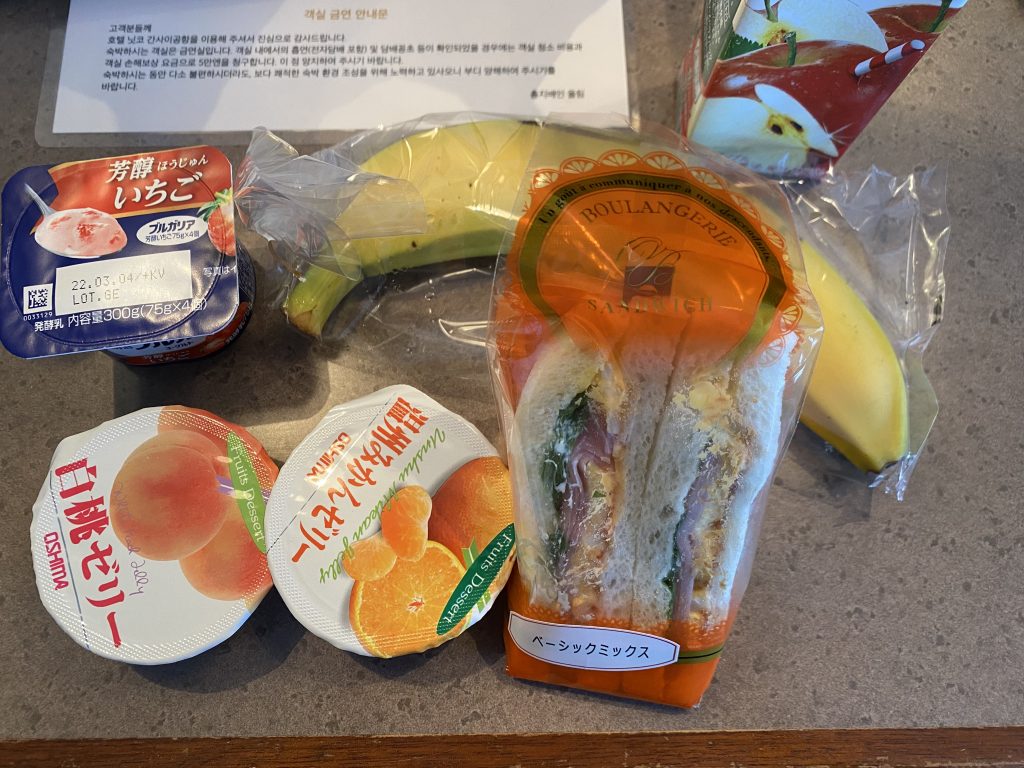 The first day, I had apple juice, yogurt, a banana, peach jelly, orange jelly and an egg and ham sandwich for breakfast.
First day for lunch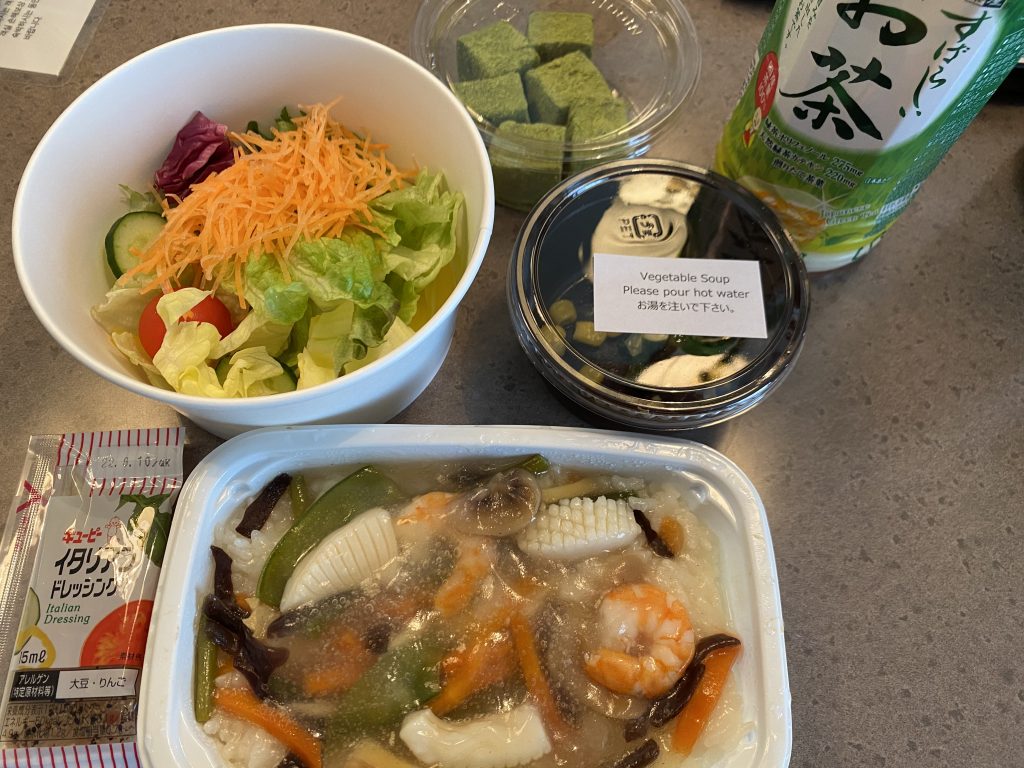 For lunch, I had green tea, salad, warabimochi(a traditional Japanese dessert made from bracken starch, soybean flour and green tea powder), miso soup and a seafood rice bowl for lunch.
I felt I needed more food, so I called the front desk. I could choose instant soup or instant noodle; curry, salt, soy source. The officer brought it to my room for free. They can also buy you something from the store if you give them only cash.
First day for dinner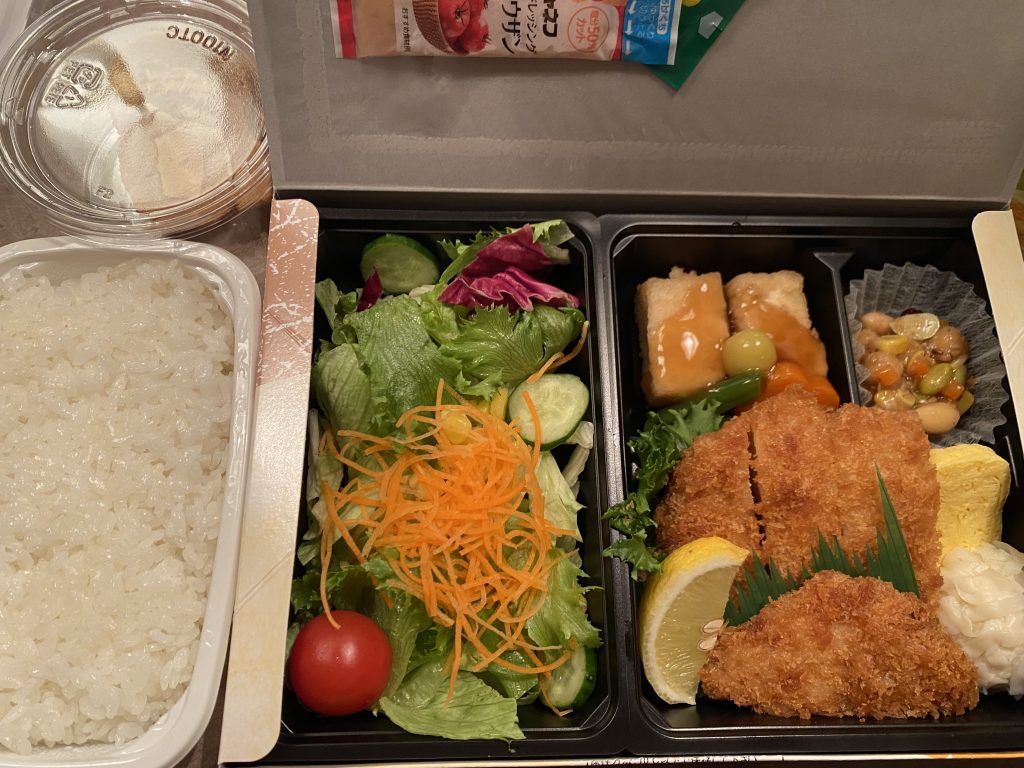 I had a green tea, salad with dressing, beans, tofu with sauce, egg, Chinese dumpling, rolled cake, Tonkatsu and rice for dinner.
Second day for breakfast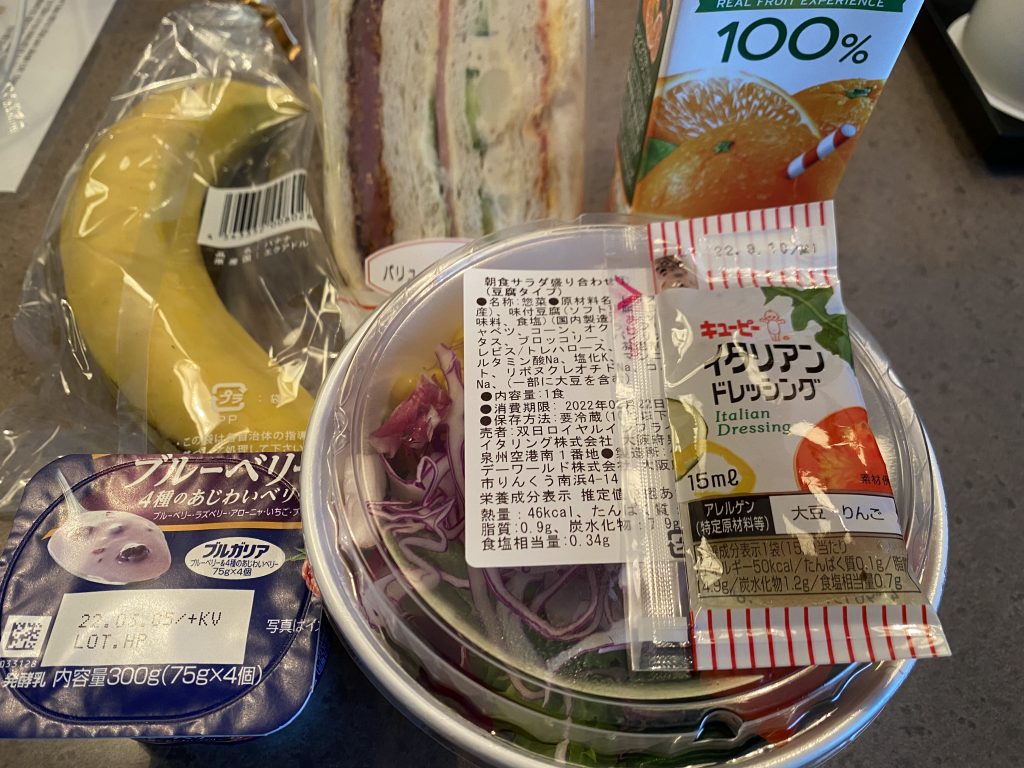 The next morning, I had a salad, a banana, orange juice, blueberry yogurt and a sandwich.
Second day for lunch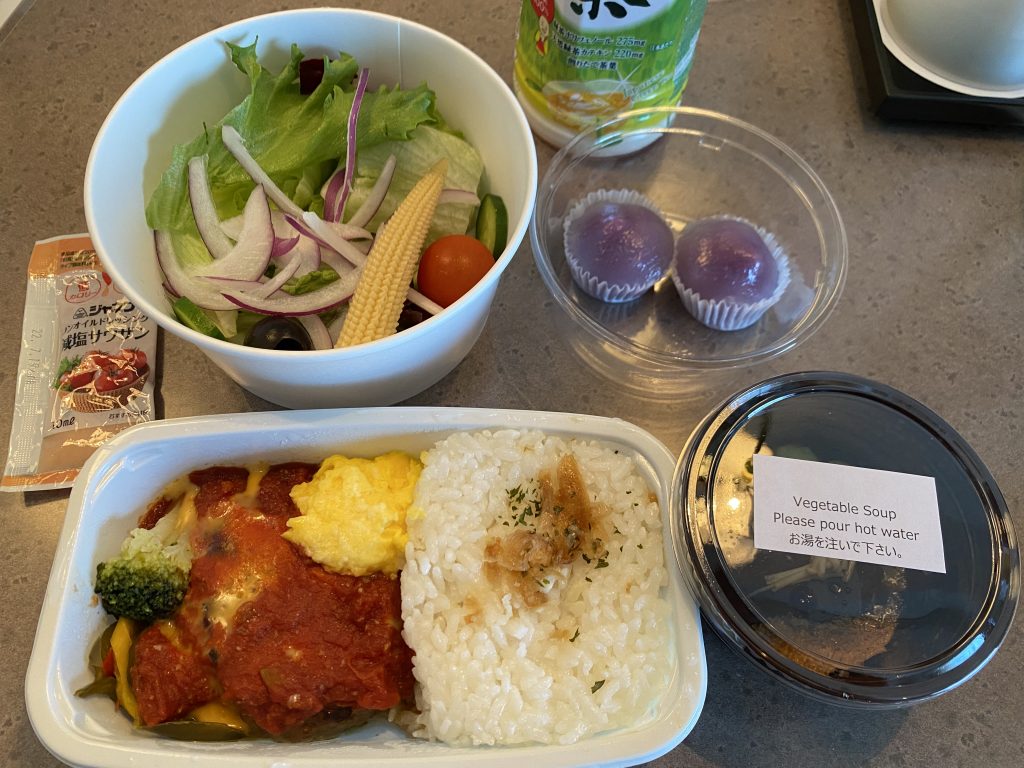 Then I had a salad, green tea, miso soup, red bean cake, egg, rice and hamburger meat with tomato with ketchup for lunch.
All people who stay at hotel have to take a CODIV-test when they leave. Therefore I got a call from the quarantine officer in the evening. They explained the COVID-test and told me to give a sample bottle for test in front of my room. You put your saliva over the line after wake up. Then put this sample in front of the door by 7 am and you will receive the results at 3 pm.
Second day for dinner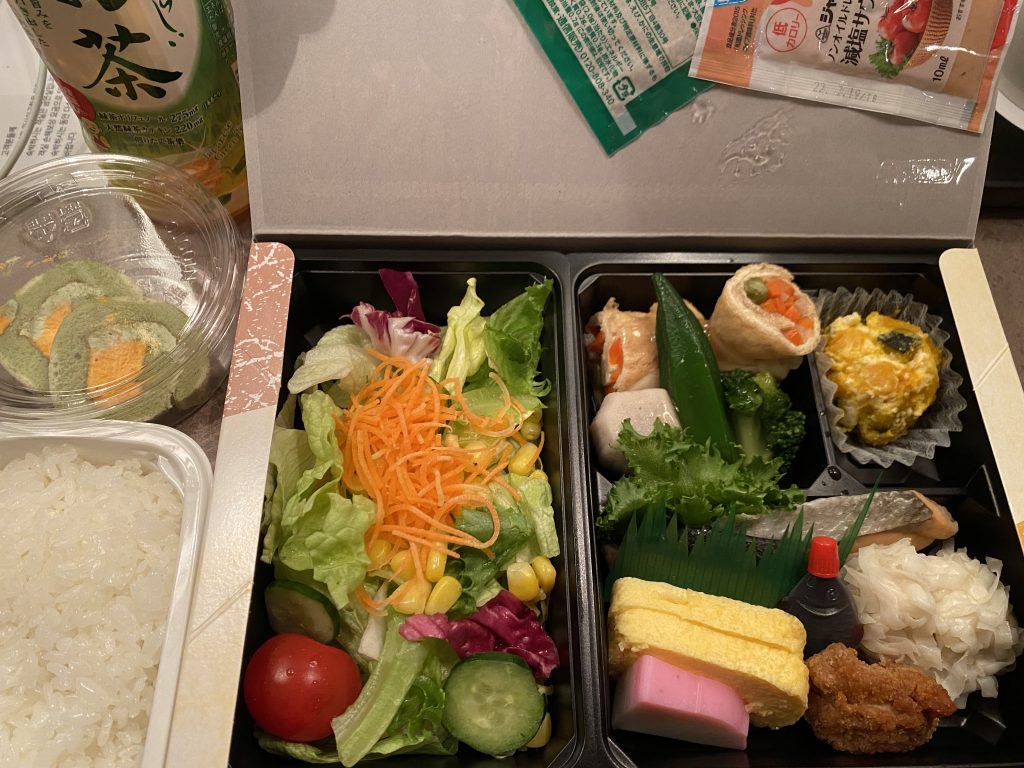 I had a salad, green tea, a pumpkin salad, taro, Okra, Chinese dumpling, salmon, fried chicken, egg, fish cake, rice, rolled cake and rolled fish cake with carrot and radish for dinner.
Last day for breakfast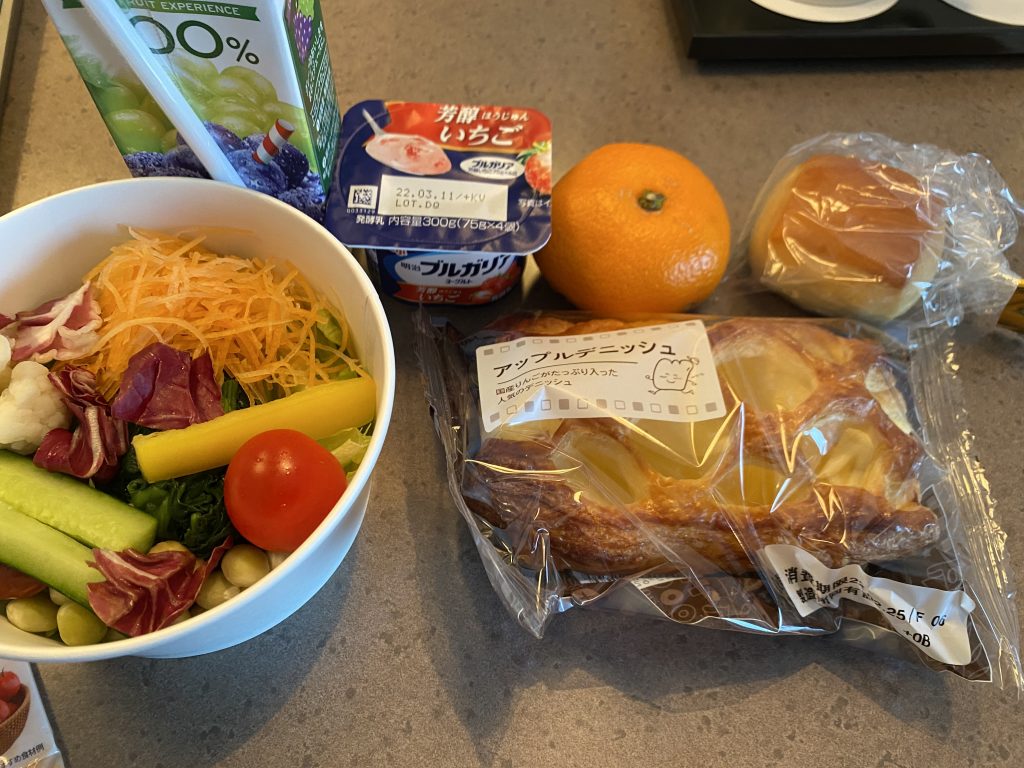 On the last day, I had a salad with dressing, grape juice, strawberry yogurt, orange, apple bread and small plain bread for breakfast.
Last day for lunch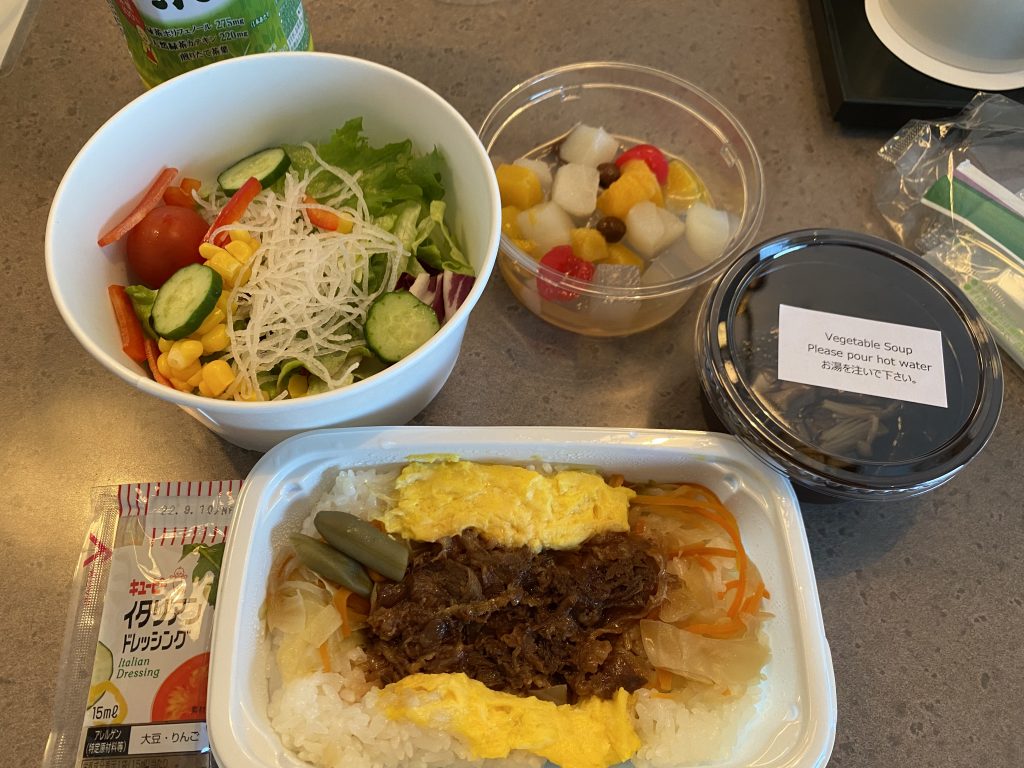 I had a salad with dressing, green tea, miso soup, fruit salad, and beef, egg, carrot, onion on the rice for lunch.
I called the front desk since they did not call me by 3 pm. The officer told me they didn't get my result yet, but they would call me after 10 minutes. I was negative, so I could leave the hotel. If I was positive, I would have had to move to another hotel for patients. After leaving the hotel, go to your home or hotel without using public transportation. You must rent a car or have friends or family drive you.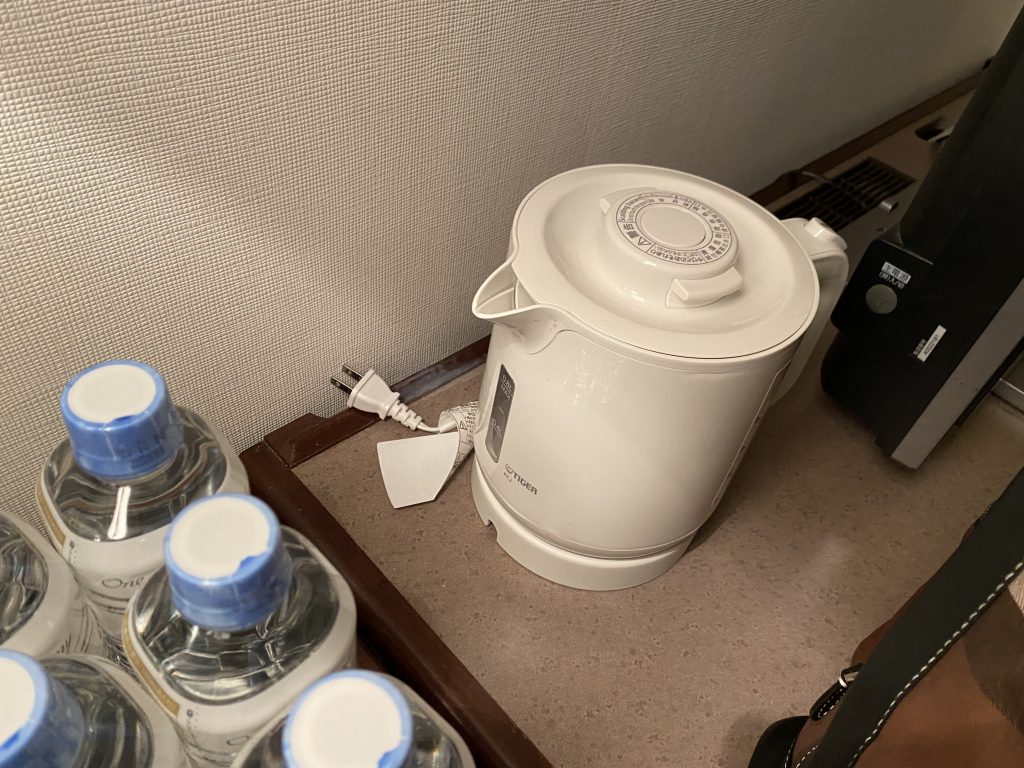 There are many comfort items to bring to the quarantine hotel. First, bring a converter for an outlet. There was a USB plug at my hotel, but some hotels don't have this. If you're from North America, be aware that some outlets are different.
Second, you should bring coffee or other tea except green tea if you drink it every morning. There is no coffee and tea at the hotel.
Last, I recommend you bring sweet snacks to the hotel. Most of the food at the hotel was not too sweet.
You will get calls from the quarantine office every day if there was a positive person who sat next to you on the plane. The officer asked me every time, "Do you have a fever and cough?" This call, normally, is finished within 3 minutes. It's simple, but I'm not sure whether this office speaks in English.
If you have questions about the quarantine, call the front desk at the hotel, ask them at the airport, and see the website. This website is in Japanese, English, Chinese, and Korean.
URL: https://www.mhlw.go.jp/stf/seisakunitsuite/bunya/0000121431_00342.html
Reference
Ministry of Health, Labour and Welfare: https://www.mhlw.go.jp/index.html