M TEA in NYC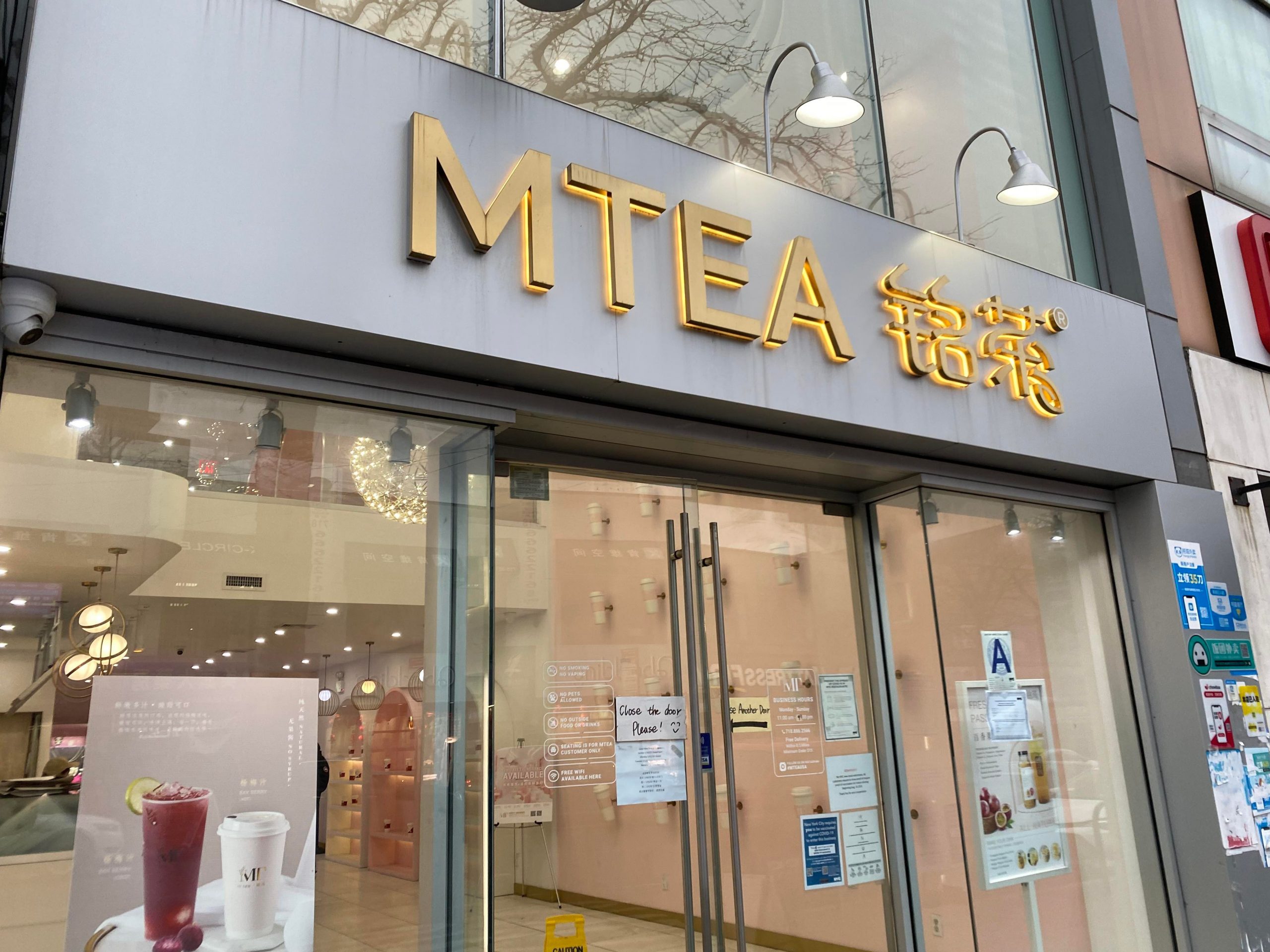 Are you looking for a cute café? I could not find a café with cute decorations in Manhattan. Nonetheless, I found one in Flushing, Queens, New York. I invite you to a wonderful bubble tea shop, M TEA. This café sells bubble tea and cakes; there are many charming decorations.
Hours of Operation
Everyday, 11:00 AM to 9:00PM
Where is the location?
MTEA is in Flushing, Queens.
Address: 36-56 Main St, New York NY, 11354
Phone: (718) 886-2566
E-mail: mtealic@gmail.com
Website: https://www.mteanyc.com/
Instagram: https://www.instagram.com/mteausa/?hl=en
Other locations
There are two shops in New York City. The first one is near the Queensboro Bridge. Their address is 23- 01 41st Ave Store 1D, Queens, NY, and hours of operation are from 11:00 AM to 9:00 PM. Their phone number is 315-889-3222. However, this location does not have balloons; there are only wall decorations, tables, and chairs. This shop offers take-away and delivery service. The second one is located in Chinatown, but this café is temporally closed until further notice.
Instagram: https://www.instagram.com/mtea.lic/?hl=en
About M tea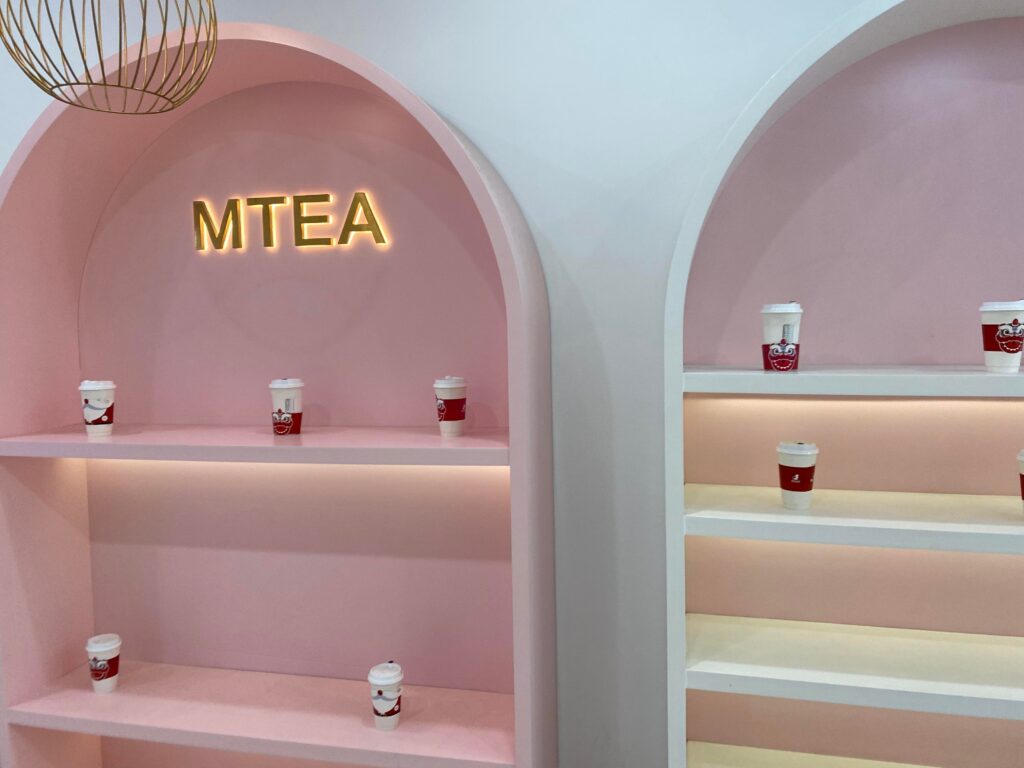 "M tea is devote to creating the freshest and highest quality bubble tea, insisting on using fresh-cut fruit and 100% nutritious ingredients without additives to make sure every cup of tea brings you health and happiness. We also offer a selection of fine pastries to please the taste buds. The combination of Taiwan classic bubble tea and Fresh dessert is for every customer to enjoy the beast experience in M tea. From ingredient selection to production, we are committed to customer satisfaction with every cup."
From https://www.mteanyc.com/
How to go
Flushing
This café is near Flushing-Main St. So, you should use 7 Line bound for Flushing-Main St (purple) if you are using the subway. Walk in the direction of "CoCo Fresh Tea & Juice" and Bank of America for five to eight minutes. You will see the shop on your left-hand side.
Near Queens bridge
This café is near the Queensboro Bridge. You should use F Line (orange), or N and W Lines (yellow). Leave 21 St Queensbridge station for F Line, or Queensboro Plaza for N and W Lines.
What does it sell?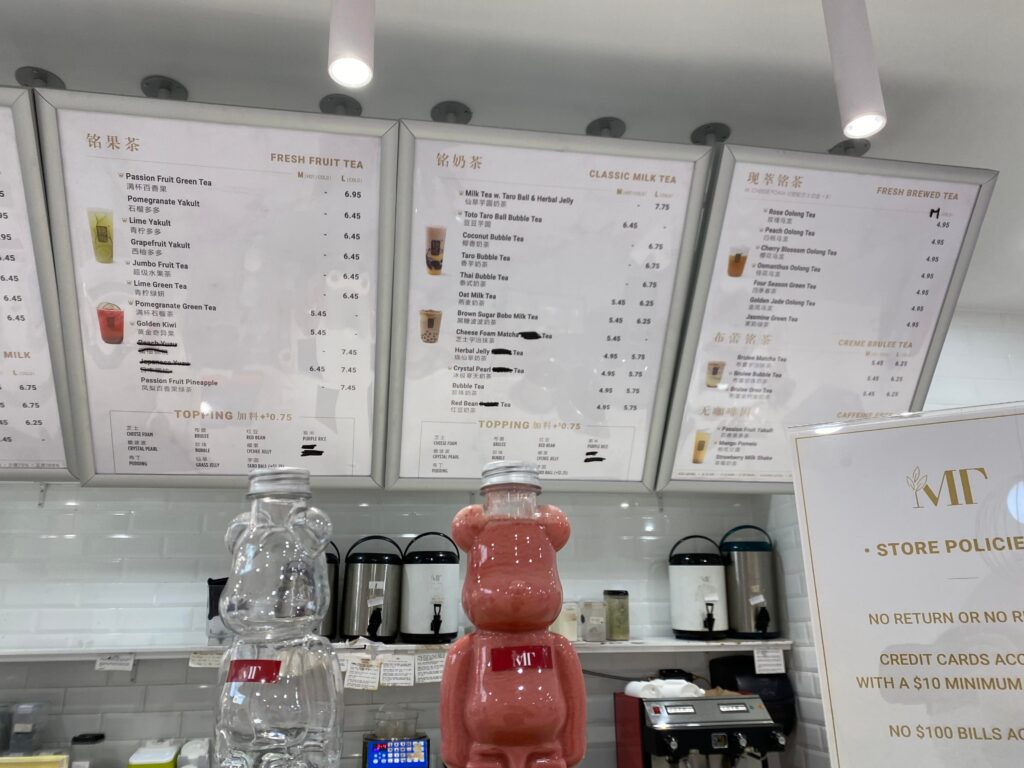 This café sells cakes and drinks such as, bubble teas and regular teas. These teas are about $7. There are many kinds of teas: Signature fruit, Fresh bobo milk, Fresh fruit, Classic milk, Fresh brewed, Cream brulee, and caffeine free tea. You can also add a wide variety of toppings: cheese foam, brulee, red bean, purple rice, crystal pearl, bubble, lychee jelly, grass jelly, pudding, and taro ball. You can conveniently order drinks right online! I drank a Cheese foam match tea with 30% sugar and brown sugar bobo foam milk; this tea was very pleasant. However, there was a long wait since there was only one employee at the time. The tables were also quite dirty as they were short-staffed. You will have to wipe the table if you are planning to stay. This café sells many desserts such as, Fresh passion fruit, brown sugar tea bar, Peach Mochi, Cookies, Crab roll, Seaweed roll, Cocoa flakes, and Snowflakes crisp. There is also a large selection of ice creams: Musang king durian, signature mango pomelo, Peach, and Brown sugar bobo ice cream. This café has a wide range of cakes: Peach lychee, Mango mousse, Raspberry yogurt cheese cake, Tiramisu, Black sesame coconut, Matcha herbal jelly cake, Earl gray lavender chestnut, fresh taro, Earl gray chestnut honey, and Dark chocolate matcha honey cake. All whole cakes (excluding Earl gray chestnut honey cake and Dark chocolate matcha honey cake) are available to order two days in advance. One piece of cake is $7.95, and all whole cakes are $59.99. You can use a credit card if you spend over $10. You cannot use $100 bills.
Top 10 drinks and dessert in January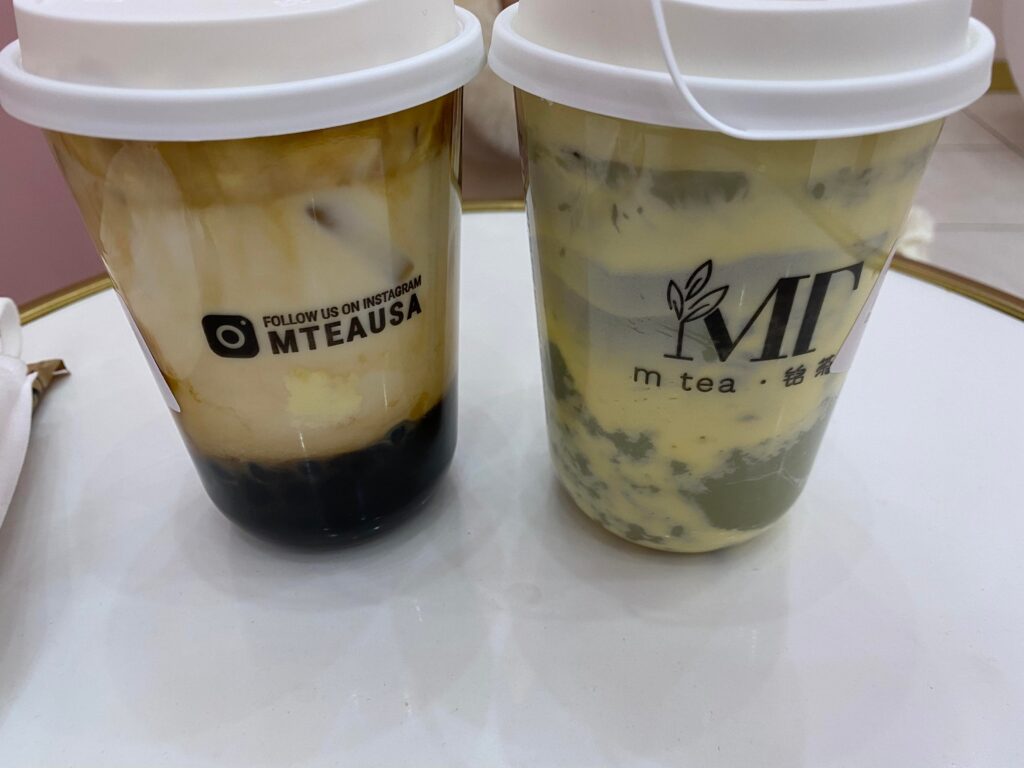 1 – Lime green tea, 2 – Strawberry tea with cheese foam, 3 – Milk tea with taro ball and herbal jelly, 4 – Golden kiwi, 5 – brown sugar bobo foam milk, 6 – brulee bubble tea, 7 – Osmanthus oolong tea with cheese foam, 8 – Tiramisu, 9 – Pink peach lychee cake, 10 – Cocoa flakes.
Decorations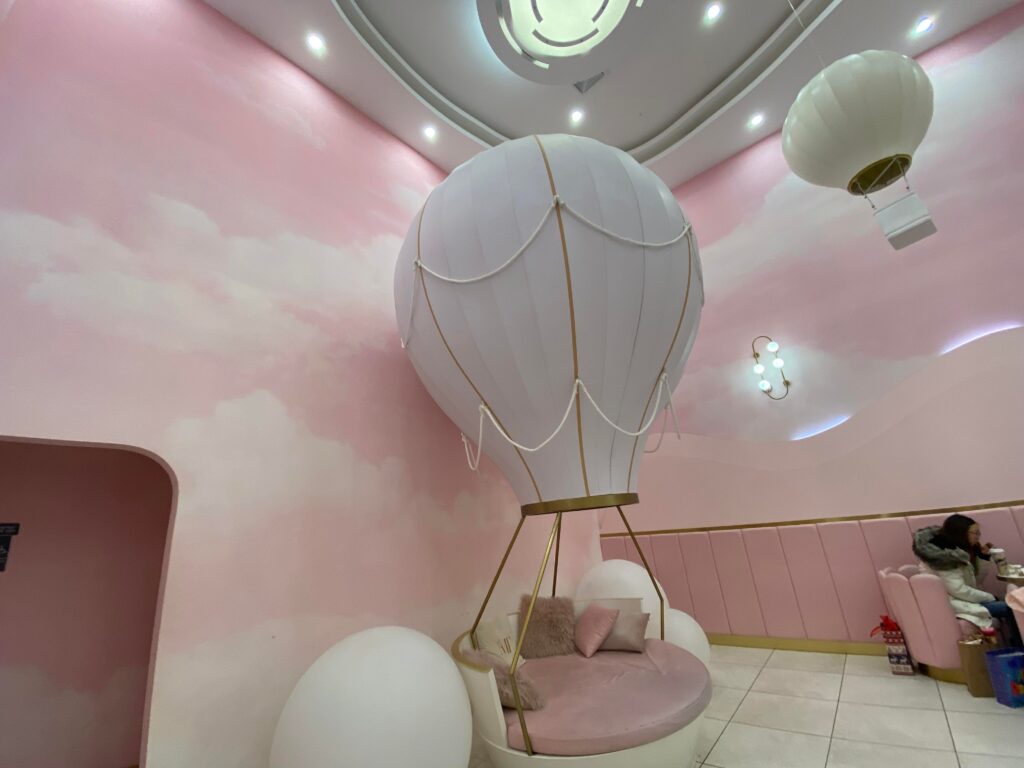 There are many delightful decorations on the ground floor and second floor in this café. Big balloon seats, cute tables, and some couches are on the ground floor. There are a few more couches and tables
on the second floor as well. The second floor was quite popular when I went, so I did not have the chance to stay upstairs. However, there should be some seats available after waiting for a bit. The walls are pink and white, making the space feel open and airy. The balloons, wall decorations, and cups are perfect for photo shoots.
Atmosphere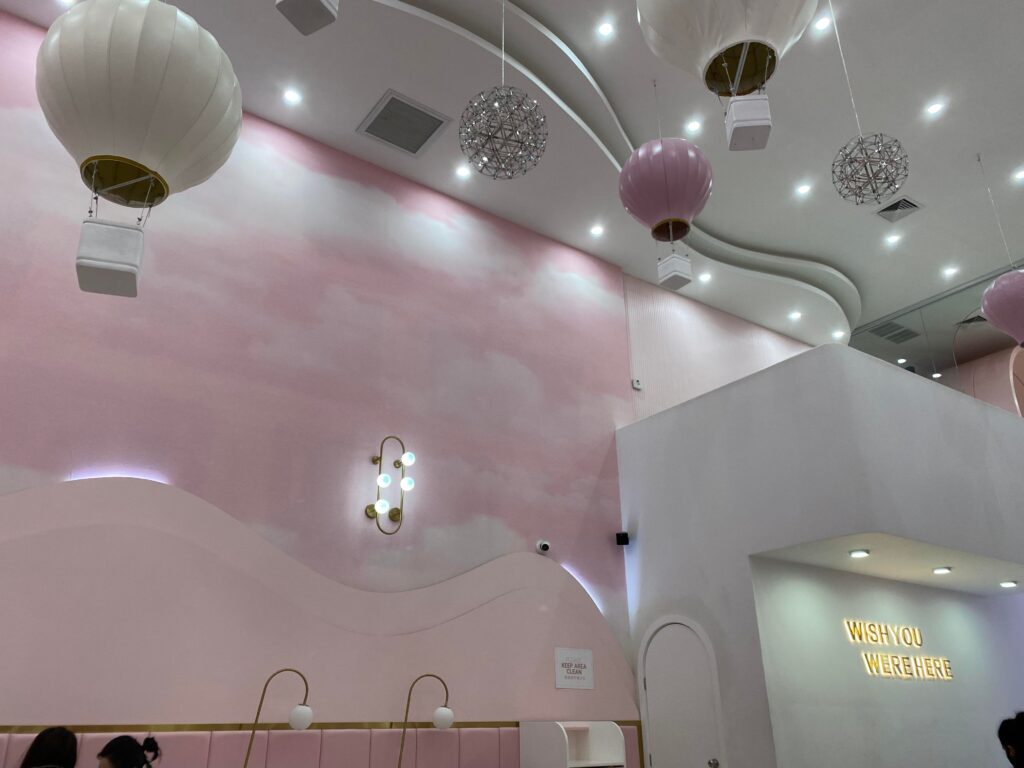 There are so many people in this café, and it is a popular spot for teenagers. They were very rowdy and took much time in the bathrooms while also running around the room. Again, the café was shortstaffed, and there were no employees to manage these disturbances. The line was also quite long to take pictures in front of the balloons and decorations. You may like this café if you don't mind these flaws since it is cute, has good teas, and dessert. There are also two crane machines that have an abundance of plushies. Many people came here to get plushies without drinking tea and eating desserts. I did not use these crane machines. However, they seem to be enjoyable and add to the café's adorable atmosphere. I recommend you go to M tea in Flushing, since this café has many cute decorations than other locations. You can take many beautiful photos as well! This café is a bit far from Manhattan, but it is definitely worth it. If you like sweets, I highly recommend you order the brown sugar bobo foam milk. On the other hand, if you don't enjoy sweets, you should order the Cheese foam matcha tea without sugar. I felt it was a little bitter when I drank it. I want to try the red bean milk tea, Earl gray lavender chestnut cake and Tiramisu the next time I visit.
 I hope you enjoy spending time in this café.
Reference
MTea LIC. https://www.mteanyc.com/